Richard E. Coffman Photography
Art Photography Gallery
Thank you, for choosing Baby-Bear Photography & Studio by Richard E. Coffman.
Important Information about the Gallery
In order to access the galleries with passwords you will need to have cookies enable and also allow session cookies.
All printed prints will not have the logo on them.
All images have been resized just for use on the web site.
Password by Request Only (***)
No password needed (+++)
Payments are made through thawte Secure Site and American Express, MasterCard or VISA is accepted.
All prints are made at a commercial lab on state of the art imaging equipment.
All images on this web site are priced and sold for personal use only. For commercial use and rates please contact Richard E. Coffman
If you have any question or problems please feel free to call or e-mail me.
Coming soon new Studio & Gallery location at:
Vickory Art Center
801 W. Shaw St. Studio 103
Fort Worth, TX 76110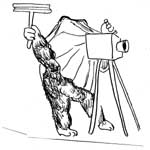 Baby-Bear Photography & Studio
Give the gift of Art Photography!
All major credit cards accepted!
All photographs on this site are the exclusive property of Richard E. Coffman and are protected under United States and international copyright laws. The photographs may not be downloaded, reproduced, copied, stored, or manipulated without the written permission of Richard E. Coffman.